Overview 
Live Proctoring reimagined: more candidates per proctor
Automatic quality check of facial image and ID photos
New Secure Browser mode: Medium
Downloading multiple session videos
Proctor SDK
What's new
New live proctoring interface: more candidates per proctor 
Over the past year, there has been an increase in the number of requests from customers who would like one live proctor to be able to monitor more than nine candidates simultaneously. We have introduced a new, highly intuitive, modern interface for live proctoring that enables this capability. The new interface is the same live proctoring interface that allows proctors to:
Identify candidates with an ID and face photo
See each candidate's webcam and screen, and hear sounds from their microphones
Confirm or reject AI-detected warnings in real time
Add warnings manually
Send messages to a specific candidate or to all candidates at the same time
In addition, a single proctor can monitor up to 150 candidates. The exact number depends on the number of proctors present during a session — candidates are always distributed equally among all available proctors.
Bild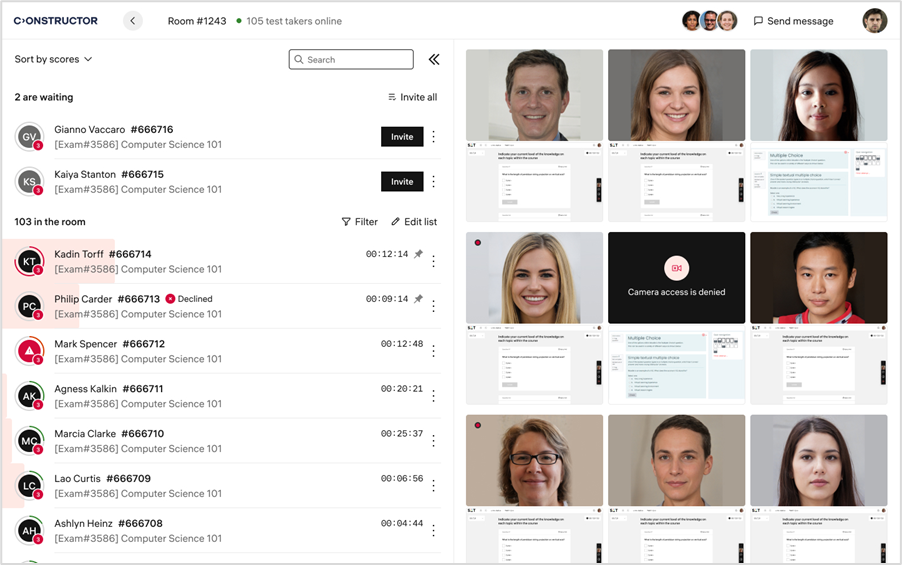 Automatic quality check of facial image and ID photos 
Our AI can now automatically detect whether a candidate's photo is in focus and their ID readable. With this feature, proctors will no longer have to decline recorded exam sessions because a candidate's ID photo is blurry — the AI will ask the candidate to retake the photo until it can be read. 
Furthermore, proctors can now quickly find in the archives all sessions for which there is no proper ID or face photo, using a corresponding filter.
New Secure Browser mode: Medium 
Our software allows learners to take proctored exams using only a web browser (Google Chrome or MS Edge) without installing any application or extension. However, in some cases, web browsers cannot provide the required level of security and cheating prevention. For such high-stake exams, we recommend using our Secure Browser. 
In this release, we have added a new security level to Secure Browser, Medium. It has the following features:
You can send us a list of all applications that should be allowed/prohibited during exams.
Secure Browser can be minimized so that candidates can still use the applications they need for the exams (e.g., Excel, Word, IDE of choice, and so on).
In this way, the medium security level lets you control which applications learners can run during high-stake exams without requiring them to remove or install components.
Download videos from multiple sessions in one click
Although each exam recording remains in the archives for 30 days, proctors or instructors may want to save certain videos for future reviews. They can now use the search or filter features to select several sessions they need and download them with a single click. All selected sessions will be saved on the user's computer.
Proctor SDK 
Our SDK is the new way to integrate Proctor with any out-of-the-box or custom-built LMS. It's a lightweight JavaScript library that can be embedded into your training platform to enable proctored exams. Currently, it only supports single-page applications (SPA), meaning that your quiz engine needs to run on a single page to function properly. 
With this SDK, your LMS will obtain all proctored session data, including information on AI-detected warnings via the API.